Welcome to our Union Family!
WELCOME TO OUR UNION FAMILY!
The Hillsborough Employees Federation (HSEF) is YOU and your co-workers coming together as a team to make improvements at your workplace within the Hillsborough County School District.
Union members work together to negotiate and enforce a contract with the Hillsborough County School District that guarantees the things you care about like decent raises, affordable healthcare, safer workplaces, job security & a stable schedule.
HSEF is the union for Hillsborough County Public School Employees including security officers, bus drivers, custodians, maintenence workers, student nutrition workers and more! No matter your role in the district you are welcome, you deserve to make ends meet, have a good life and a plan for the future!
---
It is the policy of HSEF to represent ONLY members!
It is the policy of the Hillsborough School Employees Federation (HSEF) to provide district level or site based representation only to dues paying members in good standing during the grievance process, investigations, questioning, etc.
Non-members who join the Hillsborough School Employees Federation (HSEF) shall not receive representation for pre-existing problems or for pending job related issues. However, HSEF will represent

new members

in future grievances or job related issues that may arise, unrelated to any pre-existing issues. In all cases, HSEF representation cannot take place prior to the member paying dues and being in good standing.
Exceptions to this policy may occur when the Hillsborough School Employees Federation (HSEF) President and grievance Committee determine that individual cases may affect the welfare of the entire bargaining unit or a specific group of employees within the unit, and pre-payment by the non-member for all costs incurred for the services requested has been made. Costs incurred shall be determined by the HSEF Executive Board.

---
Policy for Members on Leave of Absence
Information for members when they are on leave and receiving their pay check or they are on an unpaid leave status.
When a member is out for one or two weeks HSEF will carry the individual as current. They pay no per-caps on the person and if legal assistance is involved the local pays the per-caps necessary to satisfy the Affiliates and provide the legal assistance.

When a member is on paid leave dues must be are paid by the member as if they were working.

When the member is on unpaid leave or in unpaid status the member must pay the dues directly to the local to continue as a member in good standing, such a membership provides rights for voting, holding office, legal assistance and representation.

---
Our Affiliates
HSEF Membership Includes Affiliation with state and national unions!

HSEF on the WEB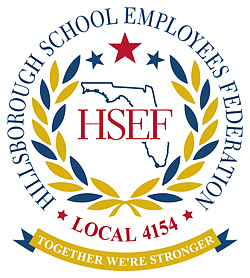 Members of HSEF can have access to the full range of resources, documents, links, news and all other information by visiting the New User Registration area. Please let us know if there is something more you would like to see!

Page Last Updated: Jun 177, 2018 (10:05:54)