July 22, 2019
A TALE OF TWO HCPS BUDGET REPORTS:
A Lesson in How the Truth Can Be Manipulated
At the July 16, 2019 School Board meeting Member Steve Cona reported to the public a false cost analysis focused squarely on Custodial Operations. His five minute speech was based on a document entitled "Hillsborough County Public Schools Expenditure Comparison by Fund for Custodial Supplies and Equipment for All Sites Over Several Fiscal Years." This document was created on July 8, 2019 and was provided directly to Member Cona by school district CFO Gretchen Saunders. Member Cona reported the following:
HCPS Custodial Operations costs $82 Million for 2019




He reported Custodial Operations costs more than transportation (Including bussing) and security.
Member Cona double checked with CFO Saunders during his speech and referring to the document asking: "Is that pretty much correct Gretchen?" To which she replied: "Yes sir."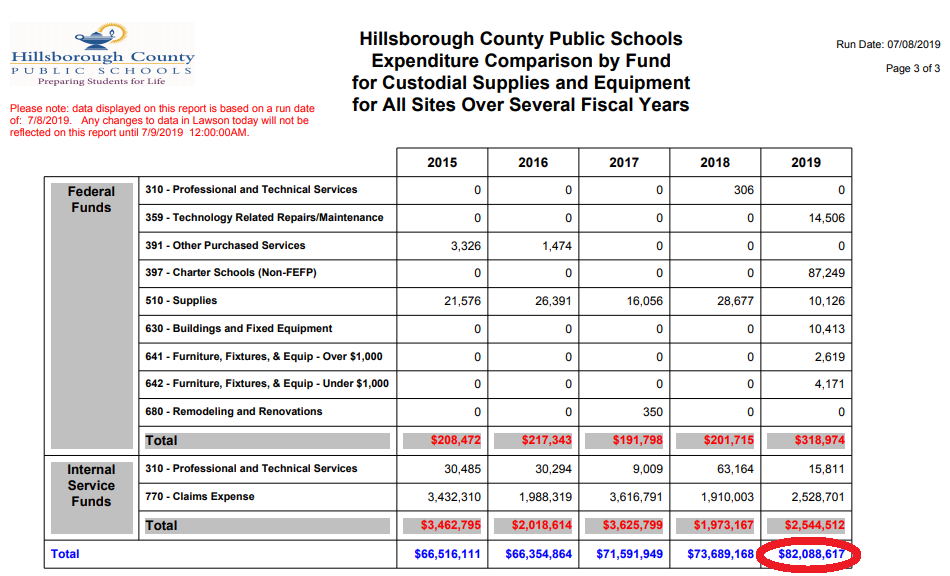 View entire document here
Member Cona supported the false narrative about HCPS Custodial Operations further by stating:
Orange County, Florida

is spending $30 Million less for a similarly sized Custodial Operation. (It should be noted that Orange County Schools employs 300 LESS custodial staff and have 20% LESS schools than HCPS).

Cona closed his speech by stating: "I don't know, but if another district is paying $51 Million and we are paying $82 Million, Something isn't right."

(Read entire speech here)
HSEF leaders and staff recognized the lie being perpetuated to the public and immediately questioned the district administrators about the information being used at the meeting. Once documents were received, CFO Saunders contacted HSEF Vice President Stephanie MacNeel to describe how costs unrelated to Custodial Operations had been added to the figures in the document used at the School Board meeting.
A new document was generated on July 17, 2019 entitled "Hillsborough County Public Schools Expenditure comparison by General Fund for Custodial related Activity for All Sites Over Several Fiscal Years." The new report indicated the following:
HCPS Custodial Operations costs $59 Million for 2019. (This is $23 Million less than what Cona told the Public).




Salaries will cost $38 Million. (This is nearly $10 Million less than what Cona told the public).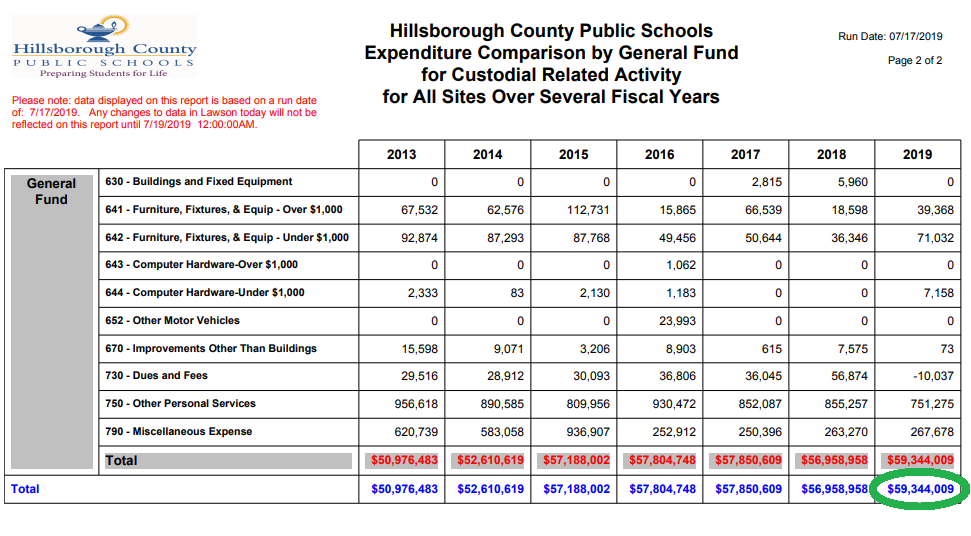 Member Cona most likely proceeded with hopes the document provided to him by CFO Saunders accurately reflected the total cost of Custodial Operations, by which it was titled. However, in his eagerness to further his agenda to outsource Custodial Operations he ignored the fact that on March 8, 2019 the District reported to the public through the Tampa Bay Times that the cost of custodial operations salaries alone is $38 Million for more than 1500 workers, which is an average salary of $24,000.
If it were not for the understanding and due diligence of HSEF this false reporting would have gone unnoticed. Furthermore, we believe significant damage has been done by Member Cona and by CFO Saunders to the public's understanding of Custodial Operations. More importantly trust has been broken. Despite an email apology from the District after the fact, when two budget reports for any operation can show drastically different pictures, how is any family, voter or employee ever able to trust the data or reporting coming from Member Cona or CFO Gretchen Saunders' business department?
Download: