Members' Rights to Union Representation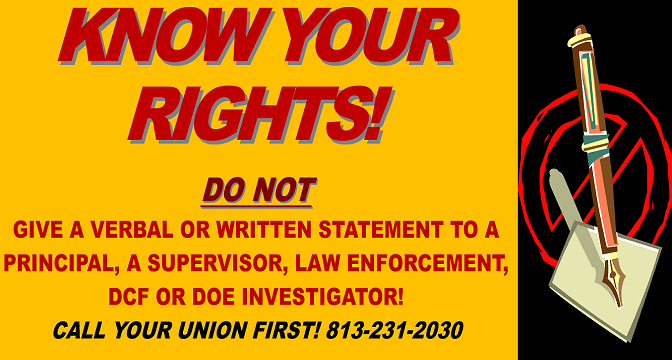 Never give a verbal or written statement to a principal, supervisor, Law Enforcement Officer, DCF or DOE Investigator without your HSEF Representative!
We all work hard and never expect trouble on the job...
Often times when an issue comes up at work our first thought and good nature is to offer assistance, answer to all directives and do what we can to work towards the best outcome. However, practical advice when it comes to situations that could lead to discipline for you or even to the discipline of a co-worker that you may be questioned about is to notify your site steward or contact your HSEF Representative IMMEDIATELY!
REMEMBER: Prior to answering questions or making a statement to an administrator, law enforcement, DCF or DOE investigator:
ASK: What is the purpose of the meeting? What are the possible consequences of the meeting?
STATE: "I am willing to cooperate with the investigation; however, I am requesting that the investigation be rescheduled at a time when I can have a representative of my choice present."
DO NOT sign or agree to anything. DO NOT make or write any statements. BE POLITE BUT REMAIN SILETNT! There is no such thing as an "unofficial" or "informal" meeting.
You should use the following steps to protect your rights until help arrives:
If confronted with charges, remain calm and courteous.

Ask for your Union Representative to be present. If your rep is not available, ask to reschedule the meeting.

Listen carefully to accusations. Then ask for time to think or to secure information.

Make detailed written notes of the events which occur in any confrontation or accusatory session, or of any other action which appears to be related. Take down every detail, including names of witnesses and others involved while the details are fresh in your mind. Print out and make copies of any relevant correspondence or documents.

In the event of a confrontation or threat to your job, do NOT resign or sign any papers or agreement.
CALL YOUR UNION REP! 813-231-2030
---
EDUCATE YOURSELF ON YOUR CONSTITUTIONAL RIGHTS
To fully understand your rights on the job it is important to completely understand the rights that you have have living in the United States. These rights stem from your

Constitutional 5th Amendment Rights against self-incrimination

. Furthermore, the 14th Amendment broadens the scope of the 5th Amendment to protect employees at the state, county & municipal level through your
Garrity Rights.
Thanks to Supreme Court ruling Public employees under investigation or in an interview that could lead to discipline can exercise their Weingarten Rights. As school district employees the Supreme Court ruled to grant Loudermill Rights which allow for Due Process in the event you are fired.
Below is a scenario in which your Weingarten Rights, Garrity Rights & Loudermill rights could coexist in the event you are faced with a work related incident. This demonstrates that YOU, as a public employee, have clearly defined rights. And as such, you and your representative MUST have a good understanding of these three sets of rights.
A public employee in a unionized unit is summoned to their supervisor's office for questioning. Having a reasonable belief that the questioning is an investigatory interview for the purpose of determining possible disciplinary action, the employee invokes his/her Weingarten Rights and requests union representation for the meeting.
Once the union representative arrives and the questioning begins, it becomes clear that the investigation involves potentially criminal misconduct. Therefore, the union representative and the employee secure an affirmation from the supervisor stating that the questioning is for disciplinary purposes only, that the employees' answers will not be used in a criminal proceeding, and that failure to answer will result in termination. Now the employee is protected by their Garrity Rights.
A few days later, the employee receives notification that management wishes to meet again, and that they believe they have grounds for terminating the employee for misconduct, based on the answers provided at the investigatory interview. The notification states that at this meeting, management will explain why they think they have grounds for termination, and the employee will have the opportunity to respond. This satisfies the employee's Loudermill Rights.
Watch the following video for further understanding and insight into how you can protect your rights.